Werner Lywen
violin virtuoso and concertmaster
Biography
Werner Lywen was born in Berlin, Germany on June 2, 1909, and already at the age of eight years old he had decided he wanted to be a violinist. His mother, being skeptical bought him at first an inexpensive violin with the fear he might just play with it like a toy. To her surprise he showed her that he had a very big talent, so she then bought him a good violin and took him to a teacher who was a former student of the famous violinist Prof. Karl Klingler. At the age of 12 he was brought to Prof. Karl Klingler himself to be heard. Prof. Klingler said he could easily become the new "Wunderkind" (child genius) on the violin, but he didn't want that for Werner, he wanted him to become a real musician. He took Werner as his private student and also sent him to the Staatliche Akademische Hochschule für Musik in Berlin (The State Academy of Music in Berlin). While studying at the Academy of Music he was asked by the famous composer, Paul Hindemith, who was the Professor of Composition in the Academy, to play his students compositions for him in his classes. In this time Werner and Hindemith became very good friends which lasted until Hindemiths death.
In the fall of 1936 Werner left Germany and came to the United States. When leaving Germany it was not permitted to already have a job set up elsewhere, but he had recently met the Music Director of the Metropolitan Opera in St. Moritz, Switzerland, and later when Werner arrived in New York, they met again, and the Music Director said it was unfortunate timing because he had needed to hire a new Concertmaster just one week before, but that he would be very happy if Werner would accept the place of Assistant Concertmaster. So, Werner accepted and played for six years at the Metropolitan Opera.
After the six years, Werner left the Met. His colleagues thought he was crazy to leave such a good position, but Werner wanted to play on stage and not in the pit all the time. He wanted to be in a great orchestra and work with great musicians.
To bridge the time, Werner played as Concertmaster and Soloist in Broadway shows. The shows were very successful with great Conductors and also Choreographers such as Balanchine and Massine. Werner himself became famous for solos that he played in the shows. Soon after, Werner also became the Concertmaster at the New York City Opera.

In New York at that time Leonard Bernstein had just become the Music Director of the New York City Symphony, and he was looking for a Concertmaster. He had heard Werner play and asked him if he would play for him. Bernstein was afraid to ask Werner to audition for him because Werner had already a good name in New York and he thought he might say no, but Werner was glad to audition for him. Werner played for Bernstein, and Bernstein wanted him right away. So, Werner Lywen became the very first Concertmaster that Leonard Bernstein ever appointed and they became close friends until the end of Bernsteins life.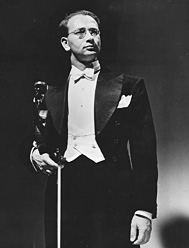 The time with Leonard Bernstein and The New York City Symphony was the real beginning of Werners career. He said "That time was the most wonderful time of my career to work with somebody like Lenny who was such a musical genius. He was the greatest musical genius born and educated in America."
Werner had many solo appearances with Bernstein and The New York City Symphony. The very first was Mozarts Violin Concerto in D Major, after which Bernstein said, "Werner played like a God tonight!"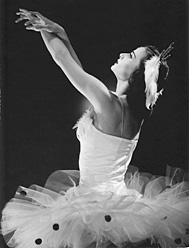 When The New York City Symphony folded, to bridge the time, Werner played as Concertmaster for the Radio City Music Hall Orchestra in Rockefeller Center, the showplace of the Nation. It was here that while playing in the pit he watched the performances and during a performance of the Radio City Music Hall Ballet Company he fell in love with one of the Soloists, Jeri Nagle (left), from Vancouver, Canada, who soon after became his wife.
Werner married Jeri in 1950. He was then asked to come to Washington D.C. as Concertmaster and Soloist for the great National Symphony Orchestra. He played there for 20 years with all the great Conductors and Musicians, and also toured many countries in different continents. He played everything possible in the classical repertoire as Concertmaster and Soloist. While living in Washington D.C., he also became Professor at the Catholic University and founded the "Lywen String Quartet" (American composer David Diamond wrote his String Quartet No. 10 in 1966 for the "Lywen String Quartet"). Later he became Professor at the American University where his quartet became "The Lywen String Quartet in residence at the American University".
Werner also played as concertmaster and soloist in the Washington National Cathedral for all their musical offerings. Meanwhile Jeri Nagle Lywen became Director of the Dance Department at the Marjorie Webster Junior College and soon after brought to the world two children, Jaqueline and Jocelyn, exactly what Werner had wanted, two girls.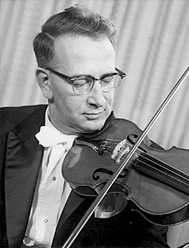 Werners duties as Concertmaster and his frequent solo appearances constituted a very heavy schedule in an extremely active career, placing an inevitable burden on family life. In 1970 Werner was asked by the California State University, Fresno, to come as Full Professor for Violin, Viola and Chamber Music and also as Conductor of the student orchestra. After many considerations Jeri and Werner decided to accept the offer. Werner wanted more time at home to be with his family.
On October 15, 2002 at 9:00pm in Los Angeles, California, Werner Lywen passed away at the age of 93. After a long, happy and successful life he left his body peacefully and quietly with his daughters at his side.